Pleasant Heights Baptist Church in East Liverpool, Ohio
Sunday School Begins at 9:45 am
Morning Services begin at 11:00 am
Sunday Evening Services begin at 6:00 pm
Wednesday Services begin at 6:00 pm
Church Ministries
We have a Sunday School class for all ages, including a nursery for the little ones. We know that each age group learns on a different level and we want everyone to be able to learn as much as possible about the God we serve and the book we love, that blessed old book, the Bible.
Adult Ministries
Our adult ministries include Sunday School and Sunday morning, Sunday evening, and Wednesday evening worship services. We also have frequent fellowships and outings. We have Valentine's Day dinner and a Christmas banquet each year.
Children Ministries
Our children's ministries include Sunday School classes and Junior Church where your children will be taught Bible stories and truths from the Word of God. They will be taught by experienced teachers that love the Lord.
Teen Ministries
We have a Sunday School class aimed especially at growing our teens in the love and admonition of the Lord. We teach them Biblically sound precepts using the 1611 Kings James Bible to do so.
Welcome to the website of Pleasant Heights Baptist Church in East Liverpool, Ohio. We are so glad you are visiting us here today. Feel free to browse our site and learn more about us. We are a church that loves Jesus and loves people. We preach the Word of God from Genesis 1:1 to Revelation 22:21. From "In the beginning" to "Amen". The 1611 King James Bible is our guidebook and final authority for all we do here at Pleasant Heights Baptist Church.
Now that you've visited our website, we would love to have you visit our church. Our Sunday School begins at 9:45 am Sunday morning. We have something for every age. Our Sunday Morning Service starts at 11:00 am and we have a Junior Church program for kids from ages 4 through 12 for that service. Our Sunday Evening Service begins at 6:00 pm. You will hear sound biblical preaching in all of our services. On Wednesday evening at 6:00 pm we have our midweek service when we meet together for some singing, sharing prayer requests, and a time of prayer for those standing in need of prayer, followed by a Bible study taught by Pastor Wagner. A nursery is available for all services.
If you are searching for a church, whether you're just in town for a few days or a resident of the area, we would love for you to visit us. Please stop by so we can fellowship and worship together.
***New News. In September of 2019, we began our Christian School, Pleasant Heights Baptist Academy. For information regarding enrollment contact us at 330-385-5885.
Independent
We are an independent, Bible-believing, soul-winning, traditional Baptist church. We do not answer to nor belong to any conference. We are self-governing under the leadership of the Holy Spirit and have determined to stay that way. We as a church have decided that our affiliation and association with other groups will be based on our core beliefs and a desire to remain free from apostasy and liberal influences.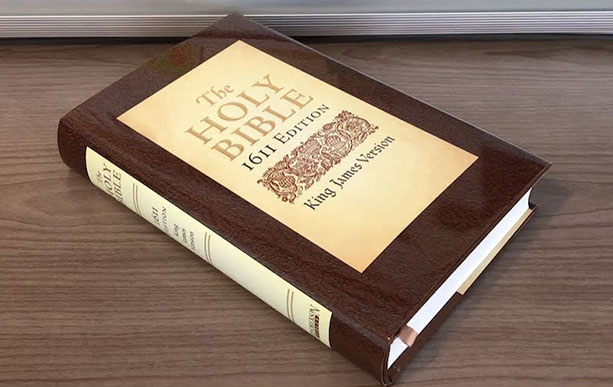 1611 KJV is God's preserved word for us today.
We believe that the 1611 KJV is God's preserved word for us today. We do not believe that there are errors or contradictions in it. We maintain that it is exactly what the Holy Spirit would have us use as our final, infallible, authority in all matters of faith and practice. We do not simply prefer or use the King James Bible, we in fact believe it as it is. It is and has been the most published and used Bible since its printed without people attempting to promote it.
It is without copyright and is available to anyone at any time to print, quote, and use without permission from anyone. It is truly unique in its origin, its acceptance, and its continuance. We believe and teach that the King James Bible is the preserved word of God without error because original inspiration without continuing preservation is pointless